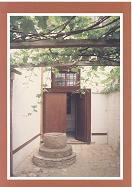 16/12/2006
Folklore – Historical Museum of Komotini

Open for public visiting since 1959 under the auspices of the Cultural club of Komotini. It is situated in an exponent architectural type of the urban house of the 19th century. There you can find traditional costumes, jewellery, broideries, cuprous, wooden and ceramic domestic items, traditional tools and historical ecclesiastical relics.

read more

17/12/2006
Folklore Museum of Xilagani

An important collection of traditional Thracian objects is placed in a renovated room of the Folklore museum of Xilagani under the provision of Xilagani's cultural club.

read more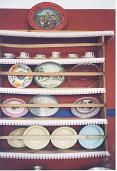 17/12/2006
Folklore Museum of Karidia

It was created by the the Cultural club of Karidia and its friends at Karidia. The inhabitants here are refugees from Eastern Thrace, Asia Minor and a few from Pontos. The exhibition consists of an interesting collection of traditional objects, costumes, textiles, agricultural tools, old photos, school articles, old books etc.

read more

17/12/2006
Folklore collection of Pamforos

A small collection of traditional house items created by the Women's cultural club of Pamforos. The majority of the village's inhabitants are refugees from Malgara, Eastern Thrace. The collections concists of a trunk, an andiron, a packsaddle, a gaida (aerophone), rags, a corn machine, a tsooukna (traditional women's costume), mugs etc.

read more